by Anne Cohen DePietro, Consultant Appraiser, American Art, Doyle Fine Art, NY
When considering the work of Esphyr Slobodkina, to do so from an interdisciplinary perspective is insightful. The playful, wry titles that she favors hint at an alternate, successful career as a renowned author and illustrator of children's books, including her classic, Caps for Sale.
She has participated in a broad spectrum of other fields as well, including architecture, interior design, polychrome textile printing, millinery, and couture dressmaking with her mother. She has designed two homes. And no family residence is considered complete until it has been "Esphyrized."
She is an extraordinary personality and an engaging raconteur who prides herself on having been totally self-reliant throughout her long and fascinating life.
Resourceful and creative, she has written her own autobiography in three volumes, replete with photographs, correspondence with many luminaries of twentieth century art, and family recipes from her native Russia. Her detailed and engaging narrative provides a fascinating glimpse into the art world of the middle years of the twentieth century.
Born in Siberia in 1908, Slobodkina moved with her family to Manchuria to escape the political unrest of the Russian revolution.  As a young woman, she traveled alone to America, enrolling at the National Academy of Design, an experience she found stultifying.  However in 1931 she met fellow student, Ilya Bolotowsky, who for a time became her artistic mentor, and from 1933 to 1938, her husband. 
Like other Russian modernists, surrounded by ancient icons and a rich craft tradition, Slobodkina developed a lifelong appreciation of clear, rich colors, and flat, stylized forms. By the late 1930s she had begun working in a flattened, abstracted style that incorporated line, suspended or interlocking forms, and pure, unmodulated color. Her abiding affection for the Russian craft tradition is reflected in her ongoing interest in crafts and the decorative arts.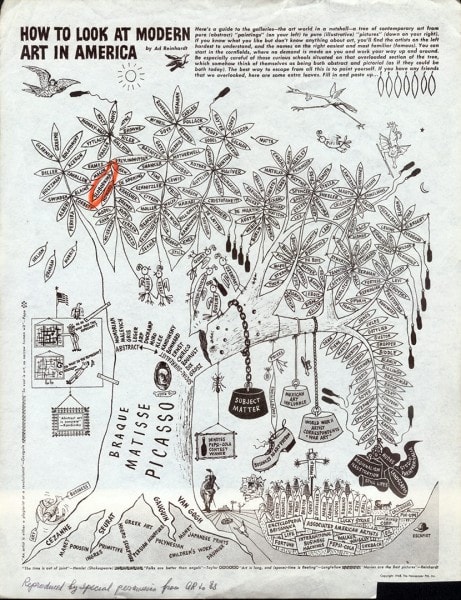 Since the inception in 1937 of American Abstract Artists – she was a founding member along with Bolotowsky – Slobodkina has served as the organization's president, secretary and treasure, as well as its bibliographer.  She was a regular exhibitor in their annual shows, and a close associate of the "Park Avenue Cubists," George L.K. Morris, Suzy Frelinghuysen, Charles Green Shaw, and A.E. Gallatin.  Indeed, in 1940 Gallatin, who owned two of her works, organized her first one-person exhibition at his Gallery of Living Art. 
Through the 1940s Slobodkina exhibited along with Byron Browne, John Graham, Adolph Gottlieb and Mark Rothko; she entertained Mondrian at a dinner party at her apartment.  Ad Reinhardt included her in his famous cartoon, How to Look at Modern Art in America.  She has served fellowships at both Yaddo and the MacDowell Colony. 
Obviously no stranger to the art world, Slobodkina describes herself as a "late bloomer," someone who was always so actively engaged in the business of making a living that for many years she never really had time to actively promote her own work. Nonetheless, her paintings and sculptures appear in notable private and public collections. Her murals decorate public facilities around the country.
Given the many competing demands upon her time it is remarkable that Slobodkina has created such a substantial body of work; it is informative to approach it from a perspective that reflects her diverse interests. She may be best known for her paintings, but only because she chose to focus on this medium when exhibiting with American Abstract Artists. Although she began working abstractly in 1934, she has always taken pleasure in working representationally when so inclined.

Slobodkina began creating sculpture of found objects in 1938; with roots in Russian Constructivism and affinities with the art of Calder and Miró these remain among her most appealing works. For many years she found inspiration in the keys and innards of discarded typewriters, but computer components now appear regularly in her small sculptures. Nothing goes to waste. Buttons, trim and squares of fabric are incorporated into jewelry, collages, and tapestries. Taut parallel lines of laced cord – a signature motif – appear in paintings, assemblage and sculpture.
Slobodkina's work is encompassing, it includes murals, collages, jewelry design, and "serendipographs." Her astute sensitivity to color enables her to make the most unlikely combinations succeed both in her paintings and in her home decoration. With a highly refined sense of artistic style, she often favors ornate Victorian frames for her hard-edge geometric abstractions. Everything is carefully crafted, but dating her work is not a personal priority.
In a hand-written 1983 addendum to her autobiography, she writes "I always painted, sculpted, constructed, made collages, wall hangings, 'serendipograph glass sandwiches', dolls, books, clothes, furniture, etc., etc., and all at approximately the same time." Art theory and trends, politics, and philosophy are unimportant to her. Instead, "Plastic arts belong in a sphere of sensual delights."
Traversing nearly a century of inspiration, it is Slobodkina's enduring delight in the creative act and her single-minded pursuit of her aesthetic vision in a multiplicity of media that continues to enchant.
Anne Cohen DePietro, October 2001
---
About the Author
Anne Cohen DePietro
Consultant Appraiser, American Art, Doyle Fine Art, NY
A native New Yorker, Anne Cohen DePietro studied art history and fine arts at Clark University in Worcester, Massachusetts. The recipient of a Master's degree in Art History and Museology from the George Washington University, Anne completed an extensive study of American costume and portraiture of the mid-18th through mid-19th centuries. A specialist in American art, with a strong interest in American Modernism, Ms. DePietro spent three years as research historian at the Catalog of American Portraits, National Portrait Gallery.
Ms. DePietro served for many years as chief curator of the Heckscher Museum of Art in Huntington, Long Island, and director of its Newsday Center for Dove/Torr Studies, a program devoted to the life and work of Arthur Dove and Helen Torr. With important acquisitions of work the permanent collection nearly quadrupled in her years at the Heckscher Museum. Important archival acquisitions during her tenure include the personal art library, paints, and painting materials of Arthur Dove; an important body of work on paper by Helen Torr, and the extensive autobiographical archives of Esphyr Slobodkina, a founding member of American Abstract Artists. She has written and spoken extensively about American Modernism.
As director of the Newsday Center for Dove/Torr Studies, she spearheaded research, documentation, and fundraising efforts for the Dove/Torr Cottage and remains a member of its advisory panel. Ms. DePietro also served on the board of the Slobodkina Foundation and, most recently, she served as director at Spanierman Gallery, LLC at East Hampton, where she focused on the art and artists of Long Island.
Endnotes
---