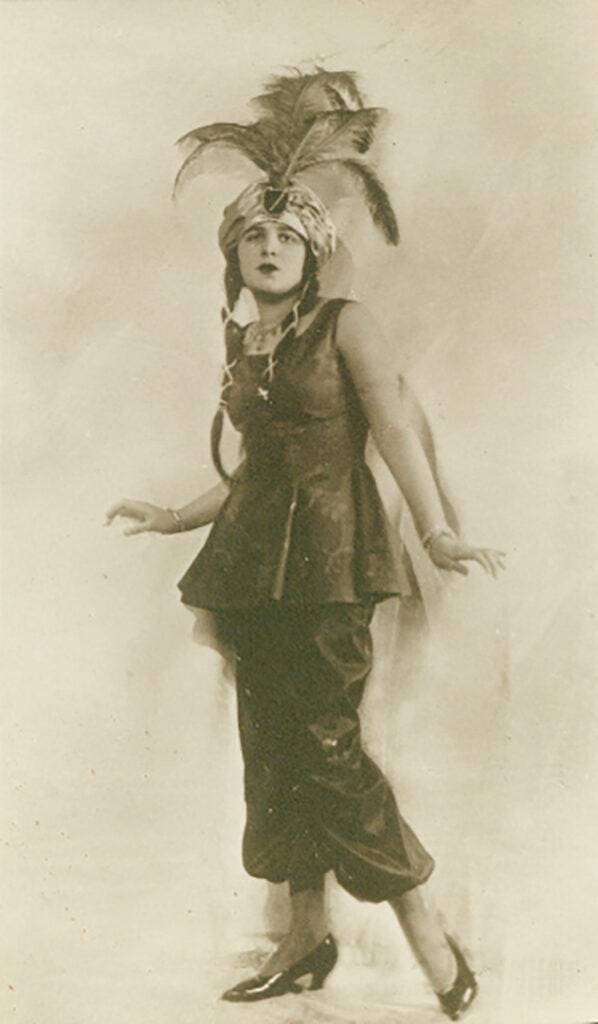 Esphyr Slobodkina is best known for her contribution to abstract art and the American children's book. Her unique approach to oil painting, collage, assemblage and illustration can be found in prestigious collections such as the Metropolitan Museum of Art (Pot-Bellied Stove), the Smithsonian American Art Museum (Crossroads #2), The Whitney Museum of American Art (Composition with White Ovals), The Sheldon Museum of Art (Sailor's Wife) and numerous museums throughout the United States.
Her body of work encompasses more than 2000 pieces that span seven decades. But, Slobodkina's diversified interests extended far beyond canvas and construction to include writing, architectural design, and textiles.
Esphyr Slobodkina was born to a middle class family in Chelyabinsk, Russia in 1908. When Slobodkina was just a child she became ill. Isolated from her siblings and bed-ridden in a weakened state she began cutting up old colored and black & white paper into different shapes for amusement. She pasted these new cut-outs into collage designs.
Illness remained a companion for many years and Slobodkina continued crafting to occupy herself, constructing objects for doll-houses from old sewing thread spools and other scraps and using found discarded colored ribbons and packaging to produce collage drawings. She made hats from leaves and flowers fastened by toothpicks. "I was never idle… I wasn't a great scholar… but I wasn't lazy." This penchant for creation characterized Slobodkina throughout her life.
Esphyr Slobodkina's education in dressmaking and millinery began during her childhood in Russia and continued during her years in Harbin, Manchuria (China). She learned these trades from her mother, an accomplished seamstress, and worked as an assistant in her mother's dress shop from age 11 through 18.
Demonstrating an innate flair for fashion, by 12 years old Slobodkina was skilled at creating embroidery designs, and clients often sought her opinions on various styles and adornments. In her autobiography, Slobodkina recalls what it was like to work at her mother's dress shop:
Tying bows, arranging loops, making up designs for the embroidery gradually became my specialty. With increasing frequency I was being called in to give my opinion of this or that detail. It was amusing because I was still so young but the ladies liked it, and I wasn't too shy to speak my mind.
In 1928, at age 19, Slobodkina immigrated to the United States on a student visa to study fine art at the National Academy of Design. During these early years in New York City, Slobodkina used her dressmaking skills and unique artistic vision to create a personal wardrobe that both reflected her individuality and stood apart from the department store fashions of the day. Critical of the uniformity of woman's dress in New York, Slobodkina made the following observation:
When spring comes to us in Harbin, every woman begins thinking of what she will wear on a bright, sunny day. Here [in New York] there is no time to think of that…here they go into a store and buy everything ready-to-wear. And that is why, even in this seven-million New York, one meets the same things at every step.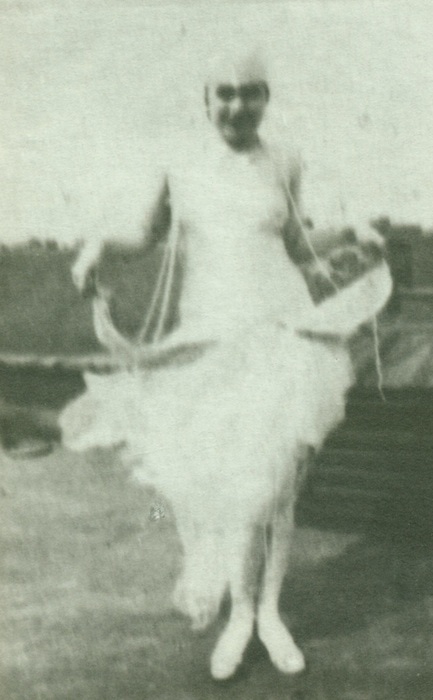 Slobodkina found many opportunities to express herself through fashion. In her autobiography, she fondly remembers winning first prize for her "Pearl in a Shell" costume that she created for the annual students' ball at the National Academy of Design:
I arrived [to the ball] in a huge, very realistic shell, and after my brother set me down in the entrance hall (hastily departing, I must add), I minced into the ballroom with just a tiny crack to see my way. When I was sure that all attention was centered on me, I slowly opened the shell and stepped out of it to a very satisfying round of applause.
During the 1930s and 1940s Slobodkina joined the Artists' Union, the Works Progress Administration's Federal Art Project (WPA/FAP), and co-founded the American Abstract Artists (AAA) group.
As an advocate of abstract art, she participated in avant-garde activities and exhibitions that helped to achieve recognition for abstract art in the United States before World War II. Slobodkina's artistic career blossomed in these years. And, in the decades that followed, her paintings, assemblage works and collage were acquired by prominent museums and private collectors.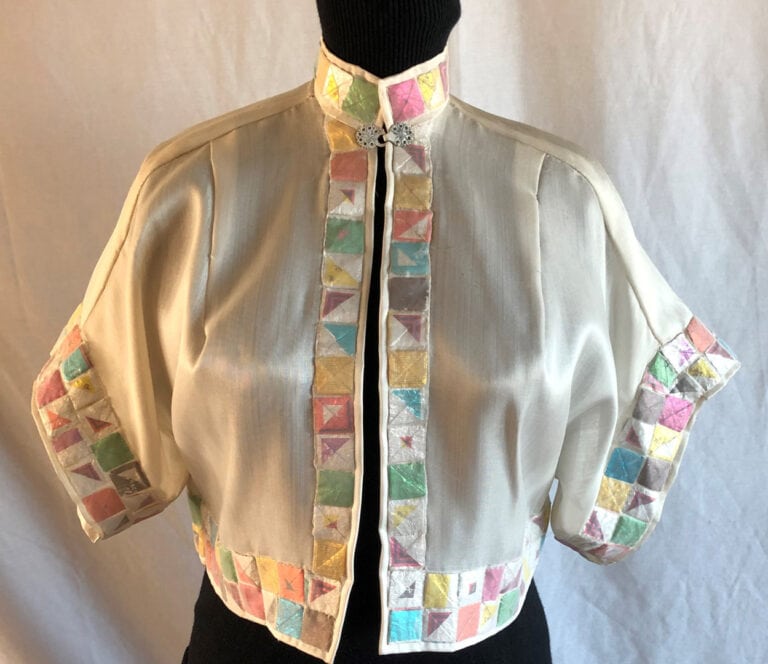 Throughout these decades, Slobodkina's dress form was her constant companion, a sentinel that always stood in some corner of her home near the sewing machine. She designed most of her own clothing and many outfits for friends and family. These garments often reflected her artistic sensibility with their abstract designs and bold colors.
Considered a pioneer of recycling fashion, Slobodkina's creations were usually accomplished using outdated suits and dresses, recycled trinkets and trim, and remnants of old or surplus fabric. Two examples of her creativity are a refashioned woman's tuxedo dress with jacket reworked from a discarded man's tuxedo (see checklist images) and a bolero jacket adorned with origami folded candy wrappers sewn into the trim. (Bolero jacket featured left.) Esphyr
Slobodkina "recycled" the everyday, dated, or simply worn-out materials into something else. Giving new life to fabric, machinery, magazine clippings, candy wrappers, and scraps of all kinds, the artist "always collected junk." "I use everything — whatever I feel like." ES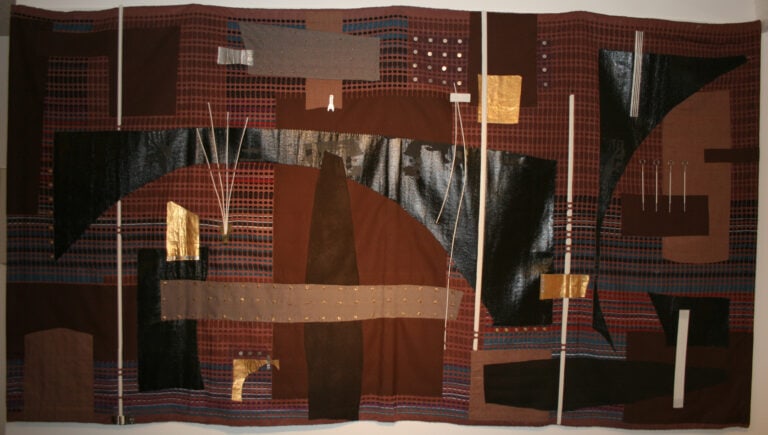 In addition to constructing dresses, jackets, hats, bags, and scarves, Slobodkina created a number of large wall hangings made from swatches of fabric and found objects. Combining a technique associated with traditional woman's roles with imagery that echoes the male-dominated world of abstract art, these wall-hangings help transform the rigidity of gender definitions and beliefs about what constitutes fine art versus craft.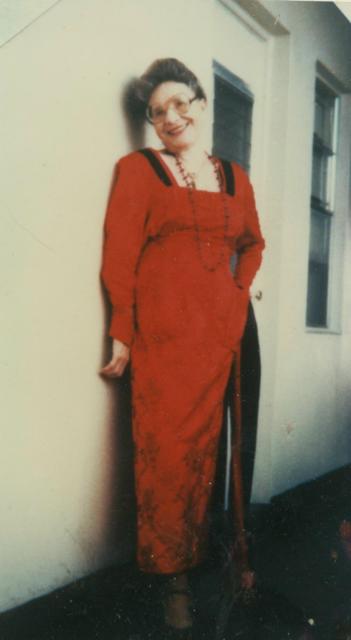 When reflecting on her penchant for non-traditional art forms and materials, Slobodkina once stated:

I just happen to be a very natural person, untrammelled by artificial, arbitrary rules of the games people, in my case people of "Art Circles" play. Frankly, I never gave a damn what people thought. As a result of that I have always painted, sculpted, constructed, made collages, wall hangings, dolls, books, clothes, furniture, "serendipographs," glass sandwiches," etc. etc. ad all at the same, or approximately the same, time.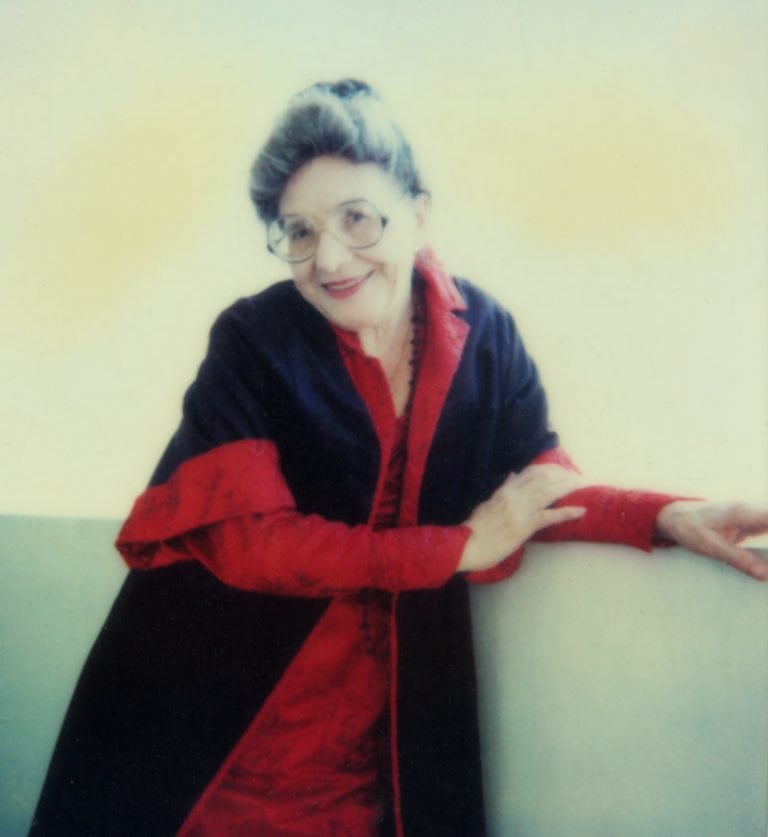 Esphyr Slobodkina's distinction as an artist stems from her versatility, diversity, and unfettered delight in blurring the boundaries between fine art and craft. A multifaceted artist, Slobodkina applied her singular creative vision to a variety of pursuits, including textile and clothing design.
Throughout her body of work, there is an ongoing dialogue between the abstract forms in her paintings and collages and those in her textiles. Indeed, Slobodkina's unwavering individualism has resulted in a body of work that continually surprises, enchants, and cleverly subverts expectations.