Current
Huntingon, NY
Spring 2022
Special Exhibitions Gallery, First Floor
The Heckscher Museum houses a large collection of Slobodkina works and archival materials. The museum is currently highlighting two Slobodkina works from its collection.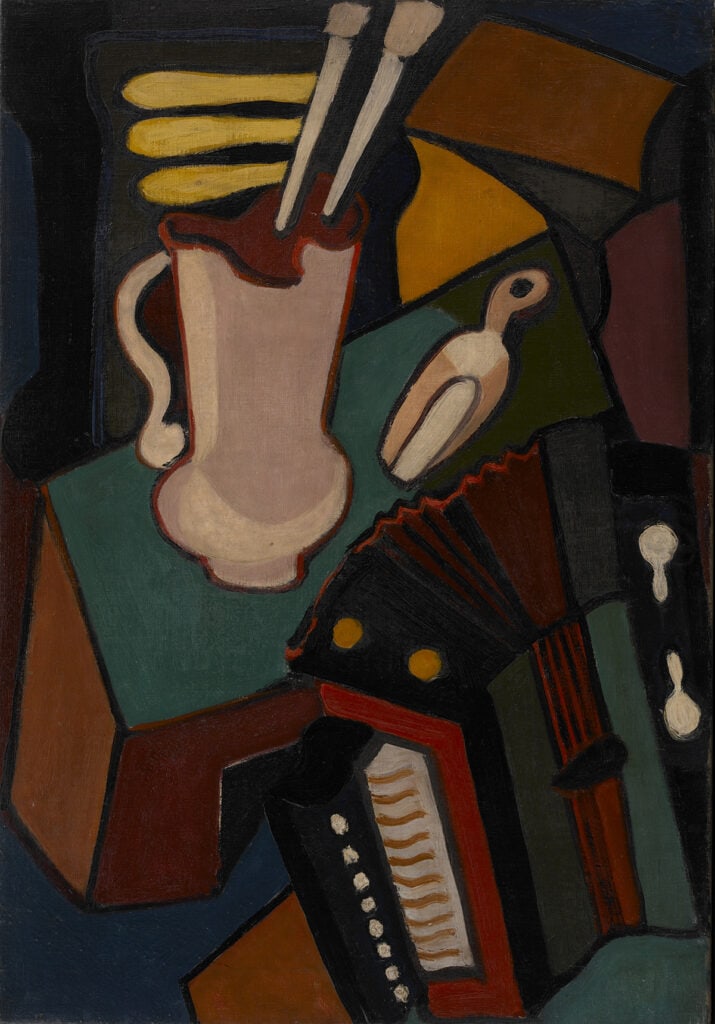 When looking at Slobodkina's Still Life with Accordion (1934) and Levitator #1 (1950), we see similarities and differences that demonstrate both the continuity and the development of her career. In addition to their similar palettes, both pieces are tilted, energetic compositions with strong diagonals and stylized graphic forms. Yet the differences between these two works highlight the evolution of Slobodkina's painting style. Still Life with Accordion is representative of the transitional phase of her work, bridging her early Impressionist style and her later abstraction…
By 1950, Slobodkina was living and working in Great Neck, Long Island (she purchased a home there in 1948). Uninterested in Abstract Expressionism, the artist focused on tightly controlled paintings with a harmony of strong lines and areas of pure color. Levitator #1 typifies these paintings, which incorporated mechanical motifs as well as suspended and interlocking geometric shapes. No doubt her early training in engineering and architecture, as well as her experience as a dressmaker, influenced this style…
Past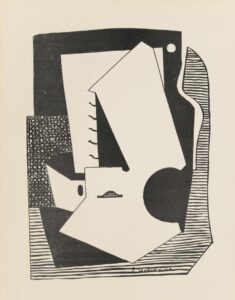 Whitney Museum of Art
New York, NY
October 9, 2021 – March, 2022
A significant number of American abstractionists were women, and their efforts propelled the formal, technical, and conceptual evolution of abstract art in this country. A few, such as Lee Krasner and Louise Nevelson, have been duly recognized, but, artists such as Esphyr Slobodkina often remain overlooked despite their contributions.
With over thirty works by twenty-seven artists drawn almost entirely from the Whitney's collection, Labyrinth of Forms highlights both the achievements of these artists and the ways in which works on paper served as sites for important exploration and innovation.
The Baker Museum
Naples, Florida
March 28, 2021 – July 25, 2021
Conceived as a companion exhibition for Blurring Boundaries: The Women of American Abstract Artists, 1936 – Present shown in the adjacent galleries, Making a Mark: American Women Artists highlights the contributions of women artists in the development of modern and contemporary art in America.
LewAllen Galleries
Sante Fe, New Mexico
April 2, 2021 – May 15, 2021.
Increasingly, Esphyr Slobodkina has become regarded for her fierce individuality that led to her relentlessly interdisciplinary artistic pursuits.
LewAllen Galleries hosts a diverse exhibition of Slobodkina's paintings, textiles, collages, and works on paper, entitled The Many Worlds of Esphyr Slobodkina.
Video: The Many Worlds of Esphyr Slobodkina
Images from the exhibit:
Museum of Fine Arts Boston
Boston, MA
September 13, 2019 – May 3, 2021
Art of the Americas Wing, Level 3
Women and Abstraction at Midcentury
This gallery takes an expansive look at abstraction, exploring how women artists reshaped the natural world for expressive purposes in a wide range of media including paintings, prints, textiles, ceramics, furniture, and jewelry.
Among the artists featured in this space are painters Carmen Herrera, Esphyr Slobodkina, and Maud Morgan and designers Greta Magnusson-Grossman and Olga Lee, as well as Claire Falkenstein, Laura Andreson, Margaret de Patta, and others who contributed to the development of the studio craft movement.
Esphyr Slobodkina
December 27, 2019 – February 15, 2020
From the LewAllen Galleries website:
To those that know of her, Esphyr Slobodkina is a legend. A Russian immigrant to the United States in the late 1920s, Slobodkina played an integral role in the development of abstract art in America. From the 1930s through her passing in 2002, Slobodkina worked tirelessly, inventively, and often irreverently in a wide variety of mediums, including painting, drawing, collage, assemblage, textiles, and even children's book illustrations.
By the time abstraction had become widely accepted in the 1950s and 1960s in the US, Slobodkina had compiled an impressive resume of exhibitions at galleries and museums including A.E. Gallatin's Museum of Living Art, the Whitney Museum of American Art, and Peggy Guggenheim's gallery, Art of this Century.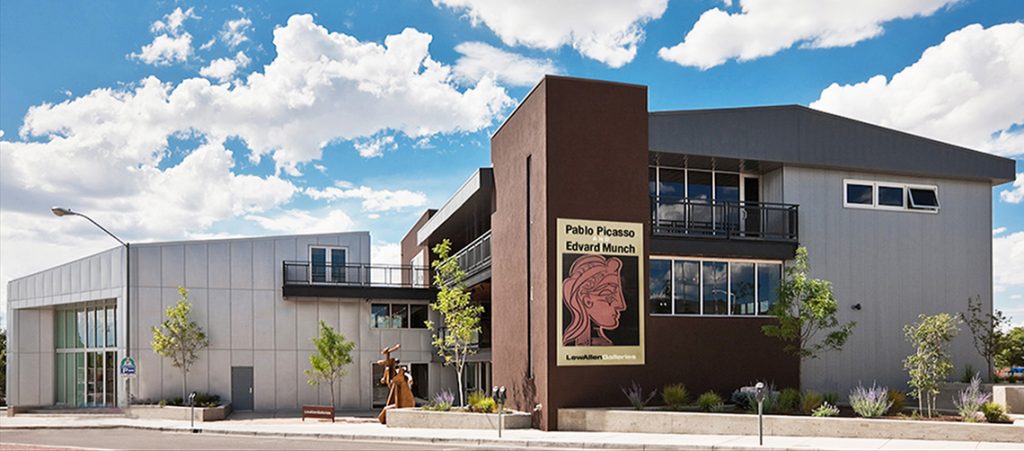 ---
2018 – 2019 Heroines at the Helm
The Whaling Museum & Education Center, Cold Spring Harbor, New York
Esphyr Slobodkina's work entitled Self Portrait (1960) and seven other works by were included in the show which explored the impact of women who broke social bounds to affect change in a male-defined world as reflected in the arts spanning 19th century whaling wives to 20th century and contemporary female artists.
To represent the 20th century, female artists were chosen based on their artistic merit, impact, and struggle to be recognized as part of the artistic canon while simultaneously shaping the discipline. Heroines at the Helm illuminated the experiences of women who have been invisible in the traditional narrative of American culture within the realms of art and history, yet found ways to forge ahead despite marginalization.
Reflecting these challenges as seen through art the exhibition served as a model for the field of maritime museums, whose exhibits typically center on historically male-dominated industries and experiences.
2016 – 2017 Caps for Sale & Other Great Tales: The History of a Storybook and its Maker
On the occasion of the 75th anniversary celebration of Caps for Sale, the Slobodkina Foundation presented a travelling exhibition which coincided with the release of More Caps for Sale, the first monkey sequel to the classic tale, the release of a third story, Caps for Sale and the Mindful Monkeys, and the debut of Caps for Sale: The Musical, which originated from The Adventure Theatre in Washington D.C. and The New Victory Theater in New York City.
Curated by the Slobodkina Foundation, Caps for Sale & Other Great Tales: The Art & History of a Storybook and its Maker was the first exhibition to focus on Slobodkina's work as an author and illustrator and her abstract influences on the American children's book. It presented the fascinating story behind the making of Caps for Sale and other Slobodkina books, which were illustrated using collage techniques.
This exhibition included 74 paintings, collage, illustrations, assemblages, and textiles, as well as twenty-six children's books. The exhibition augmented with live presentations and performances, audio-visual displays, and hands-on workshops received the Florida State award for best programming of 2016.