As the representative of the estate of the noted 20th century artist, Esphyr Slobodkina, LewAllen Galleries is very pleased to have the opportunity to promote the artist's wide-ranging lifetime oeuvre – paintings, collages, and assemblage sculpture.
The gallery is committed to expanding public awareness and recognition of Slobodkina's important role in the history of 20th century American art.
An émigré from the Russia to the United States in 1928, Slobodkina was one of earliest pioneers and advocates of American abstract art.
Throughout her long and productive seven-decade career, Slobodkina continued to expand and reinvent her artistic approach. Working in a variety of media, she consciously drew from and synthesized a range of inspirations – from abstraction and futurism to cubism and collage.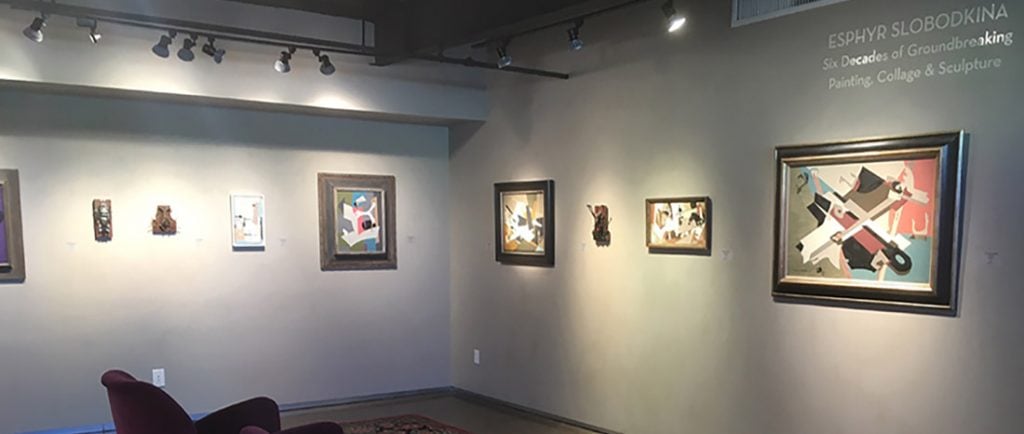 Underlying all Slobodkina's works was her inherent love and innate understanding of architecture, which is revealed both in her forms and in her inclination to meticulously map out and orchestrate her imagery.
Often finding inspiration in objects of the built environment – be it a musical instrument, an airplane, or household objects – Slobodkina transformed and reconceived depictions of these seemingly quotidian images into carefully orchestrated spatial compositions, imbued with a striking and highly graphic sensibility. Slobodkina's art is innovative, endlessly creative, and consistently evinced a resolute spirit of independence.

In a review of Slobodkina's 1951 New York solo exhibition, Art Digest made note of her emphasis on dynamism, an aspect that marks much of her lifetime of creations: "Although concise and flatly painted, the abstractions of Esphyr Slobodkina have a drama that arises from the subtle use of opaque color and an intricacy of spatial effects. This drama – much of it that of the mechanical in the modern world – is evident…where dynamic tensions are created by an overlapping and interweaving of inventive shapes."
Indeed, Slobodkina's prescient works influenced the hard-edged abstraction works that become prominent in the American art world in 1960s and '70s.
Today, Esphyr Slobodkina's paintings, collages, and assemblage sculptures are in the collections of The Metropolitan Museum; the Smithsonian Institution; the Philadelphia Museum of Art; the Whitney Museum; the National Gallery of Art; the Heckscher Museum of Art; and the Boston Museum of Fine Arts – among others.
LewAllen Galleries is grateful for the opportunity to partner with the Slobodkina Foundation to maintain, promote, and to expand the artistic legacy of Esphyr Slobodkina.