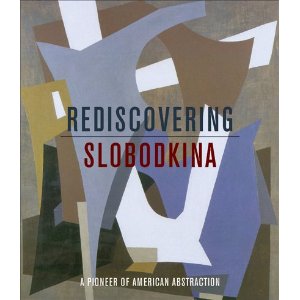 On the occasion of the 100th birthday anniversary celebration of Esphyr Slobodkina the Slobodkina Foundation in association with the Heckscher Museum, presented a major traveling retrospective entitled Rediscovering Slobodkina: A Pioneer of American Abstraction. The retrospective commemorated the life and work of this pioneer in the development of abstract art, founding member of the American Abstract Artists, and author of the classic children's book, Caps for Sale.
Sandra Kraskin, director of the Sidney Mishkin Gallery at Baruch College, curated the show. The exhibition spanned Slobodkina's entire career, from her earliest artistic efforts of the 1920s to her final sculpture finished at age 93. Seventy-five objects representing the best of Slobodkina's oeuvre were on view at four locations in the United States.
Works on loan included noteworthy pieces from the Smithsonian American Art Museum, Metropolitan Museum of Art, Philadelphia Museum of Art, Grey Art Gallery, Naples Museum of Art, Hillwood Art Museum, the Museum of Fine Arts, Boston, The Grey Gallery at NYU, New Britain Museum of Art, Samuel P. Harn Museum, and Whitney Museum of Art.
"Rediscovering Slobodkina: A Pioneer of American Abstraction" offered a posthumous tribute to a remarkable creative personality who tirelessly honed her craft for more than eight decades.
Slobodkina's numerous significant contributions to the development of American abstraction have begun to accrue more recognition in recent years. Caps for Sale, an established classic of children's literature, is quite probably Slobodkina's most widely known work.
The centennial exhibition and accompanying publication provided a forum for Slobodkina's work to be seen by a whole new audience who experienced the full scope of her achievements – which stretch far beyond the conception and execution of illustrated stories to include painting, sculpture, architectural design, couture dressmaking, jewelry-making, and writing. By presenting a comprehensive survey of her life and art, the depths of Esphyr Slobodkina's contribution to today's community was brought to light.
A 164-page comprehensive catalog accompanied the exhibition.
About the catalog:
The catalog's purpose is three-fold: to provide a comprehensive survey of Slobodkina's oeuvre, to review her career as an author and illustrator, and to provide a biographical portrait of the artist as a person.
Part One is dedicated to the exhibition and includes critical essays by Sandra Kraskin and Karen Cantor. Dr. Kraskin wrote her dissertation on Esphyr Slobodkina's first husband, Ilya Bolotowsky; she had the unique experience of meeting and interviewing Slobodkina at length in the 1970s. In her essay, Dr. Kraskin seeks to redefine our understanding of Slobodkina's role in the American abstract art movement. Ms. Cantor's essay specifically addresses Slobodkina's sculptural work, positing that her three-dimensional constructions are among the earliest examples of assemblage art in the United States.
Because a full survey of Slobodkina's accomplishments would be incomplete without attention to her notable contributions to children's literature, Part Two offers a look at Slobodkina's career as an author and illustrator. Covers of her twenty-two children's books, many of them out of print, are reproduced in full color. Full-page illustrations from Slobodkina's favorite children's books are also included.
In his essay, noted children's book historian and critic Leonard Marcus, who met and interviewed Slobodkina in the 1980s, demonstrates that Slobodkina's illustrations – although representational – are grounded in modernist principles of design. In another essay, Antonia Markiet, Senior Executive Editor at HarperCollins Children's Books, recollects her experiences working with Slobodkina from the perspective of a publishing industry professional.
Part Three presents a biographical sketch of Esphyr Slobodkina with excerpts from her 1100-page autobiography and personal reminiscences of Ann Marie Sayer, Slobodkina's friend and assistant for eight years.
Tour Dates
Venue
Dates
Heckscher Museum of Art,
Huntington, NY
Jan 10, 2009 – March 24, 2009
Samuel P. Harn Museum of Art, Gainesville, FL
June 16, 2009 – September 6th, 2009
Naples Museum of Art,
Naples, FL
October 1, 2009 – December 29, 2009
Sheldon Museum of Art, Lincoln, Nebraska
January 26, 2010 – April 18, 2010
Checklist
Title
Year
Medium
Dimensions
Collection
Park Bench in Harbin
1927
Oil on cardboard
8 5/8 x 12 3/4″
Heckscher Museum of Art, Gift of the Artist (1997.012.001)
Autumnal Procession in Ancient Russia
ca. 1929-31
Oil on etched shellac-coated glass
8 x 15 7/8″
Heckscher Museum of Art, Gift of the Artist (1997.012.004)
Self Portrait
1932
Oil on canvas
27 x 12″
Courtesy Kraushaar Galleries, New York
Ilya
1933
Oil on canvas
15 5/8 x 14 3/4″
Heckscher Museum of Art, Gift of the Artist (1997.012.012)
Cornelia Street Bedroom
1933
Oil on canvas
21 x 16 1/2″
Collection of the Slobodkina Foundation
Flowers in the Sink
1934
Oil on canvas
20 x 16 1/8″
Collection of the Slobodkina Foundation
John Cheevers' Studio, Yaddo
1934
Oil on panel
9.5 x 12″
Heckscher Museum of Art, Gift of the Artist (1997.012.009)
Studio Table
1934
Oil on board
15 x 17″
Hillwood Art Museum, Long Island University.
The Sink
ca. 1934-5
Oil on canvas
27 x 16″
Heckscher Museum of Art, Gift of the Artist (1997.012.013)
Construction No. 3
1935
Mixed media collage/construction
24 x 32″
Naples Museum of Art, Naples, Florida
Boat Construction
1935
Mixed media collage/construction
14.25 x 25.25″
Naples Museum of Art, Naples, Florida
Latest Styles for Unemployed Men and Women
ca. 1936
Pencil on manila paper
8 1/4 x 10″
Collection of the Slobodkina Foundation
Angelo Herndon Petition
1936
Oil on canvas
20 x 28 1/8″
Collection of the Slobodkina Foundation
The Pot-Bellied Stove
ca. 1936-7
Oil on canvas
35 x 24″
The Metropolitan Museum of Art, Purchase, Clarence Y. Palitz Jr. Gift, 1985. (1985.30.2)
Boat Abstraction
1938
Oil on masonite
24 1/4″ x 40″
Naples Museum of Art, Naples, Florida
Mural Sketch No. 1
ca. 1938
Oil on gesso on composition board
9 1/2 x 23 1/2″
Samuel P. Harn Museum of Art, University of Florida, Gainesville
Abstraction with Red Circle
ca. 1938
Oil on canvas
28 x 12″
New Britain Museum of American Art
Night
1938
Paper collage
16 1/4 x 12 1/4″
Collection of the Slobodkina Foundation
Tabletop Gazelle
1938
Wood construction
24 1/2 x 11 3/4 x 18 1/2″
Collection of the Slobodkina Foundation
The Derelict
1938
Wood construction
39 x 30 x 8 1/2″
Collection of the Slobodkina Foundation
Composition
ca. 1940
Oil on gesso on masonite panel
12 1/4 x 9 1/4″
Philadelphia Museum of Art, A.E. Gallatin Collection
"Caps for Sale" original illustration
ca. 1940
Paint and paper collage
7 x 51/2″
Collection of the Slobodkina Foundation
"Caps for Sale" original illustration
ca. 1940
Paint and paper collage
7 x 51/2″
Collection of the Slobodkina Foundation
Monochrome in Gray
ca. 1942
Oil on gesso on masonite
15 x 29.5″
Courtesy Kraushaar Galleries, New York
Crossroad #2
ca. 1942-5
Oil on fiberboard
43 1/2 x 33 1/2″
Smithsonian American Art Museum
Crossroads
1943
Oil on board
35 x 27″
Naples Museum of Art, Naples, Florida
Tamara Abstraction
1945
Oil with mixed media attachments on wood board
19 1/2 x 41 1/2″
Museum of Fine Arts, Boston
Crossroads
1948
Paper and foil collage
5 x 7″
Collection of the Slobodkina Foundation
Shopping Industry
1948
Mixed media on fabric
7 x 5″
Courtesy Kraushaar Galleries, New York
The Spangles
1948
Mixed media collage
5 x 7″
Collection of the Slobodkina Foundation
The Small Familiar Personage
1949
Metal and wood construction on wood base
10 1/4 x 7 1/4 x 4″
Courtesy Kraushaar Galleries, New York
Circuit in Pink (Hytron Abstraction)
1950
Acrylic on paper
13 x 11″
Heckscher Museum of Art, Gift of the Artist (1997.012.026)
Circuit in Yellow (Hytron Abstraction)
1950
Acrylic on paper
13 x 11″
Heckscher Museum of Art, Gift of the Artists (1997.012.027)
Elements of Music
1950
Oil on gesso on board
32 x 46 1/2″
Collection of Nahama Walsey Reinherz
The Levitator
ca. 1950
Oil on gesso on plywood
25 x 35″
Courtesy Kraushaar Galleries, New York
Turboprop Skyshark
1950
Oil on gesso board
16 x 50 1/2″
Courtesy Kraushaar Galleries, New York
Japanese Abstraction
ca. 1950-3
Oil on gesso board
54 x 38 1/2″
Collection of Emmy van Stolk and Elam Lantz
Abstraction with Black Shape
1952
Oil on gesso on masonite
38 1/4 x 27″
Collection of Nahama Walsey Reinherz
Composition with White Ovals
1952
Oil on composition board
34 1/2 x 20 3/4″
Whitney Museum of American Art, New York
Monochrome in Pink
1953
Oil on masonite
42 1/2 x 37 7/16″
Heckscher Museum of Art, Gift of Mr. Dohn Samuel Schildkraut (2005.004)
Monochrome in Yellow
ca. 1953
Oil on gesso on masonite
30 1/2 x 43 1/4″
Heckscher Museum of Art, Gift of Dohn Samuel Schildkraut (1997.012.022)
Composition in an Oval
ca. 1953
Oil on gesso board
32 1/2 x 61 1/2″
Grey Art Gallery, New York University Art Collection, Gift of Mr. and Mrs. Irving Walsey 1962.19
Escape No. 2
1960
Mixed media construction
12 x 9.5 x 18″
Collection of the Slobodkina Foundation
Typewriter Bird
1960-1
Mixed media construction
17 1/2 x 15 1/2 x 7 1/2″
Heckscher Museum of Art, Gift of the Artist (1997.012.061)
Deus Ex Machina (oil study)
1961
Oil on gesso on masonite
10 x 12 1/4″
Collection of the Slobodkina Foundation
A Triptych in Old Rose
1964
Oil on canvas
51x 49″
Hillwood Art Museum, Long Island University.
Monochrome in Beige
1968
Oil on gesso board
45 1/2 x 40 3/4″
Collection of the Slobodkina Foundation
Boat Building (original working drawing)
ca. late 1960s or early 1970s
Pencil on paper
16 1/4 x 11 3/4″
Collection of the Slobodkina Foundation
Boat Building (oil sketch)
ca. late 1960s or early 1970s
Oil on gesso on masonite
12 x 13 5/8″
Heckscher Museum of Art, Gift of the Artist (1997.012.09)
Abstraction with Pierced Shapes (oil sketch)
1975
Oil on gesso on masonite
10 1/8 x 15 7/8″
Heckscher Museum of Art, Gift of the Artist (1997.012.028)
Inner Sanctum
1978
Oil on canvas
41 3/4 x 24″
Hillwood Art Museum, Long Island University.
Journey into Future
1978
Oil on gesso on canvas
48 x 48″
Collection of the Slobodkina Foundation
Subzero Technology
(Work study)
Date unknown.
Black and white magazine clipping
4 x 3 3/4″
Collection of the Slobodkina Foundation
Subzero Technology
(Work study)
1978
Pencil on tissue paper
4 1/2 x 9 1/2″
Collection of the Slobodkina Foundation
Journey into Unknown
(Work study)
ca. 1978-1982
Oil on canvas board
5 3/4 x 5 3/4″
Collection of the Slobodkina Foundation
Journey into Unknown
(Work study)
ca. 1978-1982
Oil on canvas board
5 x 5″
Collection of the Slobodkina Foundation
Subzero Technology
(Work study)
ca. 1978-1982
Oil on canvas board
10 1/2 x 6″
Collection of the Slobodkina Foundation
Black Crosses
1982
Oil on canvas on masonite
13 1/4 x 7 3/4″
Collection of the Slobodkina Foundation
Still Life with Balalaika
1985
Oil on canvas
22 x 38″
Hillwood Art Museum, Long Island University.
Peacock Garden
1986
Oil on linen on masonite
12 x 38″
Collection of the Slobodkina Foundation
Within the Mysterious Parameters of Privileged Information
1988
Mixed media construction
29 1/2 x 23 1/2 x 20″
Hillwood Art Museum, Long Island University.
The Sadly Sagging Educational Spiral
1988
Mixed media construction
10 1/2 x 11 3/8 x 9″
Heckscher Museum of Art, Gift of the Artist (1997.012.060)
Trophy No.1
1988
Mixed media wall construction
9 1/2 x 6 x 3 1/4″
Collection of the Slobodkina Foundation
Trophy No.2
1988
Mixed media wall construction
10 x 4 x 2 1/2″
Collection of the Slobodkina Foundation
Triangle in an Oval
1989
Oil on gesso board
11 x 12 3/4″
Courtesy Kraushaar Galleries, New York
The Last Countdown (preparatory work)
1990
Mixed media collage
5 1/4 x 19 1/2″
Heckscher Museum of Art, Gift of the Artist (1997.012.036)
Vortex Study
1991
Pencil on graph paper on paper board
8 1/4 x 8 1/2″
Collection of the Slobodkina Foundation
Vortex No.2
1991
Oil on masonite
48 x 48″
Heckscher Museum of Art, Gift of the Artist (1997.012.023)
Flying Objects Immobilized
1998
Oil on gesso board with pen and ink
10 1/4 x 19 1/2″
Collection of the Slobodkina Foundation
Thrust Trophy No.3
1998
Mixed media wall construction
8 1/2 x 7 3/4 x 5 1/2″
Collection of the Slobodkina Foundation
Ahead with Fair Winds No. 2
2001
Mixed media construction
23 1/2 x 10 1/4 x 11 1/2″
Collection of Ann Marie and Scott Sayer