by Harold E. Porcher, Director, Modern & Post-War Art
The American Abstract Artists (AAA) was founded by a group of artists that was very influential in shifting the public opinion of American abstract painting in the 1930s and 1940s from one of rejection or mere tolerance to acceptance. Unfortunately, the recognition the AAA received for their artistic accomplishments is restricted to works accomplished during those two decades.
Though these were important developmental years of American abstraction, many of these artists went on to develop their ideas in many fascinating directions.
Ironically, the artists that eclipsed the AAA group's prominence after 1949 were the abstract expressionists, who were greatly indebted to these elder abstract painters. Were it not for the steps painters and sculptors of the AAA had taken toward developing an American art identity, abstract expressionism might not have developed as we know it.
If I were to pick one time in American art history that I could go back and witness first hand, it would be the early years of the American Abstract Artists group. The AAA set out to establish an art identity for the modern painter in the United States. In the beginning, they were criticized and even ignored, but the tireless search for something unique in the world of art culminated in the development of abstract expressionism.
Indeed, the abstract expressionist movement shifted the center of the art world from Paris to New York City – where it remains today – and the AAA founders and their contemporaries were the torchbearers, establishing abstraction as a viable form of expression in America.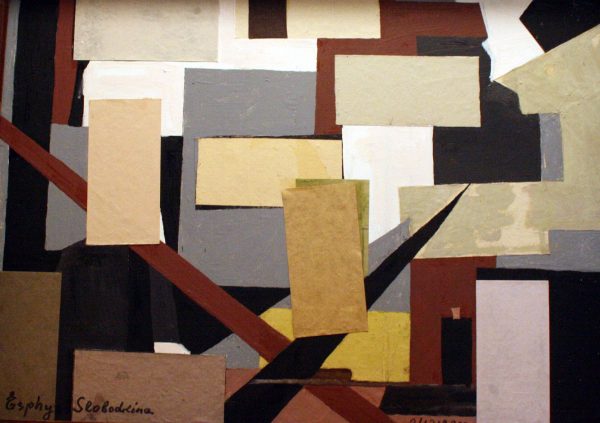 Some people have described early abstraction in this country as derivative of that of the Europeans. The AAA's early emulation of European artists' concepts is often described as misinterpretations by naïve artists. This description is valid, as most of the American artists did not have opportunities to travel to Europe to view paintings of their overseas counterparts firsthand.
But, many of these interpretations were clever innovations that further developed modernism as a whole. In an attempt to build on modernism – a largely European form of artistic expression – the Americans incorporated elements of what was familiar to them. The AAA artists pulled imagery and objects together into magnificent compositions time and time again.
I equate an early AAA artist to the American mockingbird. A mockingbird borrows and embellishes the songs of other birds around him. Often he changes the phrasing as he incorporates each element into an orchestration of birdsong.
We cannot know if the mockingbird selectively alters the fragments he takes from other birds or if he simply alters them to suit his composition. The artist's work can be studied in an endeavor to map his/her sources of artistic style or to determine the original function of some small object in a composition, just as you can also try to break down a mockingbird's song to discover his sources. But first it is important to simply enjoy the composition.
Much of the post war art that we now see is highly individualistic. Each artist is striking out to find that next great movement. No longer do we have the groups of artists searching for answers as a team. The listing of original members of American Abstract Artists is largely made up of people not born on American soil.
Each member brought his or her own set of cultural ideals, biases and passions to the group. Through their meetings, debates and protests, they shaped the art world and each other into a whole that was greater than its parts. They were great examples of the American melting pot. Out of many shards of art concepts, they forged a style of expression that has not tarnished from age.
---
About the Author
Harold E. Porcher
Director, Modern & Post-War Art
Harold Porcher served as VP/Director, Modern & Post-War Art Director of Modern and Post-War Art at Doyle Fine Arts, NY 2006-2020.
Porcher studied fine art painting and biology at the College of Charleston. While in school, he developed a special interest in art sales and began his career as an art dealer. He moved to New York in 1989 where his expertise in American abstraction of the 1930s and 1940s led to his role as director of Sid Deutsch Gallery. Porcher developed experience in the buying, selling and exhibiting twentieth century American art. Porcher also served as gallery manager of Snyder Fine Art, New York.
After leaving Snyder Fine Art, Porcher consulted for several private dealers, estates and artists throughout New York City and Chicago.  In 1997, he started his own business, Sage Fine Art, specializing in the private sales of American abstract art from 1913 through the present.  In 2000, his longtime friend, Esphyr Slobodkina, invited him to co-found the Slobodkina Foundation. Harold now served as Vice President in charge of the Foundation's art collection until 2019.
Harold Porcher has written extensively on modernist art for various publications and has curated several fine art exhibitions in New York City.  He paints and exhibits his own artwork.
Endnotes
---