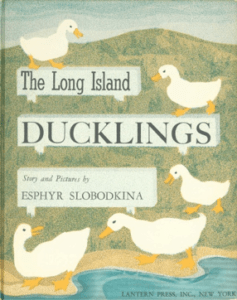 written and illustrated by Esphyr Slobodkina.
Published in 1961 by Lantern Press.
SYNOPSIS: The peaceful life of Shady Pond is interrupted twice a year by the loud squawking of migrating wild ducks. The Duckling family, residents of Shady Pond, acquire an exciting and colorful new friend, Mr. Drake, to whom they give lodging for the winter while his injured wing heals.
Mr. Drake is grateful to the Duckling family and never forgets their kindness, which he repays most wonderfully after tragedy strikes the Duckling home.
About the Illustrations: The illustrations for The Long Island Ducklings were drawn using colored pencil, ink and pastels. The design and layout of the book is typical of Slobodkina's abstract style.
Sample of Inside Pages: