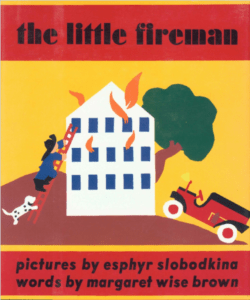 written by Margaret Wise Brown and illustrated by Esphyr Slobodkina.
Originally published in 1938 by William R. Scott. Reprinted in 1995 by Harper Collins.
SYNOPSIS: There is no false alarm, but a dashing story about the little fireman who saves fifteen ladies, splashes out the blaze, and returns to his pink ice cream and to bed.
About the Illustrations: The first American picture book to be rendered in cut-paper collage, The Little Fireman appeared in publisher William Scott's fall 1938 inaugural season and remains a touchstone work of the genre. Slobodkina later explained her choice of medium by saying that cutouts "enforce" a "simplicity of line that cannot be achieved by pen."
Author Margaret Wise Brown collaborated with Slobodkina on four more books, advised her in business matters, and urged her to keep writing.
About the story: In 1937, on a tip from a New York friend, Slobodkina presented her portfolio to Margaret Wise Brown, a glamorous young editor known for her iconoclastic approach to book making. Brown worked for W. R. Scott & Company, a fledging publishing firm with a small office within the Greenwich Village headquarters of one of America's centers of progressive education, the Bank Street School.
Dedicated to publishing distinctively modern, Bank Street-inspired picture books that challenged children to think and see for themselves. At the time the Bank Street article of faith considered that children under seven lived in a "here and now" realm of immediate sensory experience that left little room or need for fantasy. Books that dealt in simple reality such as the "big/little" series presented children with real world experience.
Sample of Inside pages: