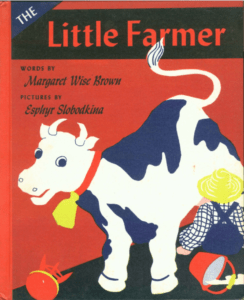 written by Margaret Wise Brown and illustrated by Esphyr Slobodkina
Originally published in 1948 by William R. Scott
SYNOPSIS: A very big farmer and a very little farmer live side by side. Children read about how each successfully undertakes the same chores despite their difference in size.
About the Illustrations: The Little Farmer was produced using the collage technique employed by Slobodkina throughout the "big/little" series. Slobodkina later explained her choice of medium by saying that cutouts "enforce" a "simplicity of line that cannot be achieved by pen."
Author Margaret Wise Brown collaborated with Slobodkina on many books.
About the Story: In 1937, on a tip from a New York friend, Slobodkina presented her portfolio to Margaret Wise Brown, a glamorous young editor known for her iconoclastic approach to book making. Brown worked for W. R. Scott & Company, a fledging publishing firm with a small office within the Greenwich Village headquarters of one of America's centers of progressive education, the Bank Street School.
Dedicated to publishing distinctively modern, Bank Street-inspired picture books that challenged children to think and see for themselves. At the time the Bank Street article of faith considered that children under seven lived in a "here and now" realm of immediate sensory experience that left little room or need for fantasy. Books that dealt in simple reality such as the "big/little" series presented children with real world experience.
Sample of Inside Pages: