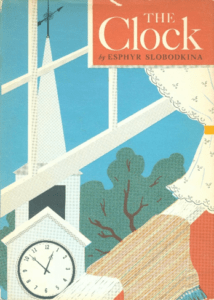 written and illustrated by Esphyr Slobodkina.
Published in 1987. Reprinted by Greenwillow, 1993.
SYNOPSIS: This is an easy-to-read picture book for young children that has a real story to tell about people, their habits, and the town they live in.
The background is a Vermont town, but it could be any town or village, in which the townspeople live a calm and peaceful daily life, depending on the Old Clock in the church tower to tell them when it is time to get up, go to their jobs, and go to bed.
But one day the clock breaks down and everything is chaos until a deaf old lady takes its place temporarily.
The people are all upset and some of them think the clock should be replaced. The traditionalists prevail, however; the clock is repaired and everything goes on calmly and peacefully as before.
About the Illustrations: The Clock was produced using collage and colored pencil. Slobodkina employed recycled scraps of printed wrapping paper to achieve many of the background and clothing designs. Slobodkina explained her choice of medium by saying that cutouts "enforce" a "simplicity of line that cannot be achieved by pen."
Sample of Inside Pages: