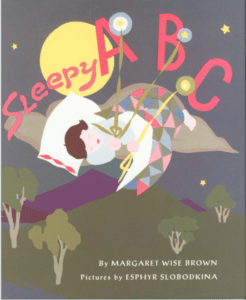 written by Margaret Wise Brown and illustrated by Esphyr Slobodkina
Originally published in 1953 by Lothrop. Republished in 1994 by HarperCollins
SYNOPSIS: When nighttime approaches, all the world is ready for sleep. The small kitten yawns at the hearth, the lambs in the field close their eyes, and a young child waits for a goodnight kiss. Margaret Wise Brown's tender rhymes and Esphyr Slobodkina's patchwork-quilt motif artwork gently and lovingly illustrate each letter of this sleepy, bedtime alphabet, first published in 1953.
About the Illustrations: Esphyr Slobodkina prepared the collages for this book using a patchwork-quilt motif, incorporating recycled wrapping paper into the mix.
About the Story: Text is done in rhyme by Margaret Wise Brown.
Sample of Inside Pages: