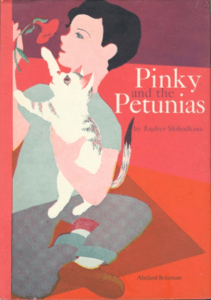 written and illustrated by Esphyr Slobodkina
Published in 1970 by Abelard
SYNOPSIS: Sweet little Pinky, the family kitty, loves the outdoors and roaming around on sunny days. But, more than that, Pinky loves petunias. To the horror of all, Pinky enjoys eating some of the delicious buds every day. What can be done? Mother nature solves the problem and Pinky learns a lesson.
About the Illustrations: Pinky and the Petunias was produced using collage and colored pencil. The illustration layout, much of it set using angular planes, is indicative of Slobodkina's penchant for abstraction.
About the Story: Slobodkina wrote this happy true story about her sister's cat. Slobodkina and her sister both loved cats.
Sample of Inside Pages: