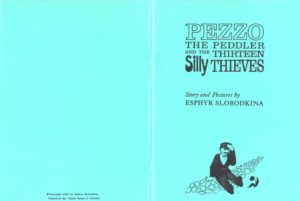 written and illustrated by Esphyr Slobodkina.
Published in 1970 by Abelard.
SYNOPSIS: One morning, Pezzo the peddler set off to sell his wares a great big stack of tan, brown, blue and red caps, all piled on top of his head. It was a fine day, and things were going very well for Pezzo until he came to the local jail. What the thieves do and how Pezzo manages to outwit them is delightfully told in story and pictures.
Now out-of-print, Pezzo the Peddler and the Thirteen Silly Thieves is another book in a series that also includes Caps for Sale and Circus Caps for Sale (originally published as Pezzo the Peddler and the Circus Elephant), and two monkey sequels-More Caps for Sale and Caps for Sale and the Mindful Monkeys.
Sample of Inside Pages: