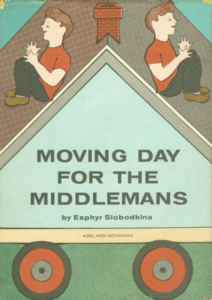 written and illustrated by Esphyr Slobodkina
Published in 1960 by Abelard
SYNOPSIS: Moving is exciting, but sometimes it can be sad. For if you live in a nice house that's not too big and not too small, that's not too new and not too old, that has something special for everyone in the family even the dolls you don't want to leave it for a less agreeable place.
That's how the Middlemans felt about their house, but they knew they had to move to Middletown where Mr. Middleman had a new job. They were in despair until Uncle Marty had a wonderful idea: they would move the house to Middletown!
About the Illustrations: The illustrations for Moving Day for the Middlemans were drawn using colored pencil, ink and incorporated collage. The design and layout of the book is typical of Slobodkina's abstract style.
About the story: Slobodkina's good friends The Middlemans were moving and so their adventure was written and illustrated by Slobodkina as a surprise.
Sample of Inside pages: