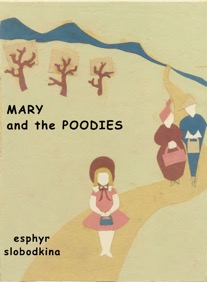 written and illustrated by Esphyr Slobodkina.
Published: This was the first children's book that Slobodkina wrote and illustrated. (1937) Slobodkina self-published Mary and the Poodies in 1988 as part of "A Portable Library of Slobodkina Children's Books"
SYNOPSIS: The story of Mary And the Poodies was based on a real girl named Mary, and her unusual imaginary friends, the Poodies. Through each encounter with the Poodies, children learn that the routines and bothersome requirements of daily life are really not so bad after all.
About the Illustrations: Slobodkina had been studying abstract painting and making sculpture and wished to present something new and unexpected.
Slobodkina recalled cutting and coloring her own shapes out of paper, cloth and textured materials, making collage as a child. She decided that bright and colorful collage would be a unique technique for illustrating a book.
For the background of each page Slobodkina used colored paper: an apple-green background signified spring; pale gray for a rainy fall day; sandy beige for the sunny beach scene; and deep blue for the night sky outside of Mary's window.
Esphyr took scraps from everything she had at home. From a store purchase she recycled gray paper bags with tiny polka dots. These were cut into furniture shapes. She used bits of paper with different patterns for the people, umbrella and objects in the scenes. She then pasted and layered the pieces on the background paper.
Margaret Wise Brown found Slobodkina's fresh approach to illustrations new and interesting. No one in America was using collage to fully illustrate storybooks. Although Slobodkina was not able to get "Mary and the Poodies" published, Ms. Brown hired Esphyr to illustrate many other books.
Abstract design using collage technique, crayon, watercolor and recycled materials.
About the story: Mary and the Poodies is Esphyr Slobodkina's very first children's book, written in 1937 during the height of the Depression. At the time, Esphyr was looking for ways to supplement her income as a W.P.A. artist. When a friend offered to introduce her to Margaret Wise Brown, the noted author of Goodnight Moon, Esphyr decided to try her hand at children's literature.
Determined not to meet Margaret before she had something of real worth to present, Slobodkina sought out the only child she knew at the time: Mary, a friend's niece who liked to say strange things about her imaginary friends, the poodies.
Slobodkina wanted to embellish her story with visual images that were exciting and different. Recalling her own childhood activities of crafting paper dolls and doilies, Esphyr decided on collage – a pictorial technique that was innovative and unprecedented in children's illustration. The patterns and textures that v created from cut paper and cloth also evoked prevailing styles of the day, such as the black and white polka design used by Lord & Taylor for their shopping bags.
Margaret Wise Brown, delighted by the book and its illustrations, presented Mary and the Poodies to her publishers, the Scotts of Scotts-McCullough Publishing. The Scotts were similarly impressed, but discovered that it would be nearly impossible to replicate Slobodkina's colorful palette and subtle tonal variations in print. Thus, due to limitations in printing technology, Mary and the Poodies could not be brought to fruition.
Despite this disappointment, the experience initiated a long-term relationship between Brown and Slobodkina, who would collaborate on numerous books including Sleepy ABC and The Little Fireman. It also launched Esphyr's solo career as a children's book writer and illustrator, which was realized in 1940 with the release of the now-classic Caps for Sale.
In 1991, the University of Hartford in Connecticut opened the Esphyr Slobodkina Urquhart Children's Reading Room where nineteen 24' x 16" cloth collage panels of the Mary and the Poodies illustrations are currently on display.
Sample of Inside pages: