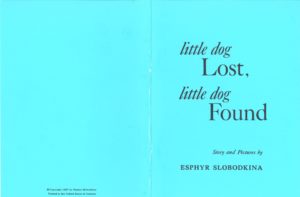 written and illustrated by Esphyr Slobodkina.
Published in 1956 by Abelard Schuman.
SYNOPSIS: Johnny's dog Jet is very well behaved in almost every way – except when it comes to keeping on his tag. One day, Jet loses his tag and an unexpected adventure ensues. As the tale unfolds, children learn an important lesson about how identity runs deeper than surface appearances.
About the Illustrations: Little Dog Lost, Little Dog Found was produced using collage and colored pencil. The illustration layout, much of it set using angular planes, is indicative of Slobodkina's penchant for abstraction.
Sample of Inside pages: