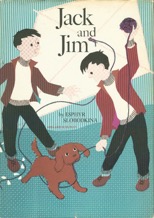 written and illustrated by Esphyr Slobodkina
Published in 1961 by Abelard-Schuman
SYNOPSIS: Twin brothers Jack and Jim thought that there couldn't be anything better than winning a cute reddish-brown puppy dog. But when the new puppy arrives at their home, the brothers find themselves disagreeing for the first time. Jack wants to call the puppy Zip, while Jim wants to call him Snapper. Neither gives in and they argue for days.
When the puppy gets lost and they have no name to call him home, the brothers learn an important lesson about compromise, and that being good friends is the best prize of all.
About the Illustrations: Jack and Jim was produced using collage and colored pencil. The illustration layout, much of it set using angular planes, is indicative of Slobodkina's penchant for abstraction.
Sample of Inside pages: