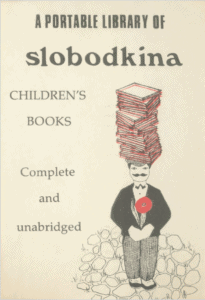 A collection of children's storybooks written and illustrated by Esphyr Slobodkina
About the Illustrations: The Portable Library includes a variety of illustration styles that Slobodkina experimented with throughout seven decades. The illustrations are reproduced in black and white.
About the Story: The Portable Library includes a collection of 23 of Slobodkina's children's books presented in black and white paperback format in a cardboard carry case.
Sample of Inside Pages:
The Portable library contains images of all Slobodkina Stories presented in B&W. See individual storybooks for examples.